EMR Communication Team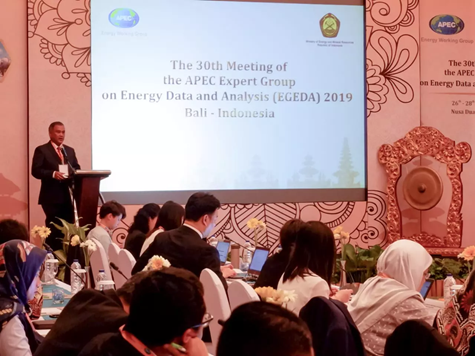 MINISTRY OF ENERGY AND MINERAL RESOURCES
REPUBLIC OF INDONESIA
PRESS CONFERENCE
NUMBER: 169.Pers / 04 / SJI / 2019
Date: February 26, 2019

Strengthen Energy Policy, Ministry of Energy and Mineral Resources Held The 30th Meeting of the APEC Degree Expert Group on Energy Data and Analysis (EGEDA)

The Ministry of Energy and Mineral Resources (MEMR) together with the Asia Pacific Economic Countries (APEC) held the 30th Meeting of the APEC Expert Group on Energy Data and Analysis (EGEDA) in Nusa Dua, Bali, on February 26-28, 2019. This meeting is a regular meeting attended by statistics and policy analysts representing 21 APEC member countries.

EGEDA is a group of energy data experts under the APEC Energy Working Group (EWG) which is responsible for providing input on relevant policies to APEC and the wider community through collecting energy data from APEC members and managing the APEC energy database through coordinating agencies and manage the Energy Statistics and Training Office (ESTO-APERC).

Secretary General of the ESDM Ministry Ego Syahrial in his remarks when opening the EGEDA meeting said that this forum was very important in the effort to synchronize energy data and information between APEC member countries.
"The ESDM Ministry puts forward accurate and transparent data, because this is the basis for strengthening energy policy. This meeting has an important role in sharing experiences to collect data," Ego said.

On the same occasion, APERC Senior Vice President, EGEDA Chair James Kendell said that this meeting was expected to provide accurate data for strengthening analysis on energy security, energy efficiency, sustainable energy and energy security. This is in line with the goal of EGEDA, which is to be able to bring together data requirements supported by internet technology.
The Ministry of Energy and Mineral Resources Data and Information Technology Center as a clearing house for the ESDM sector seeks to initiate these needs, where tasks and functions include sector data management, preparation of sector data for international organizations such as Joint Organization Data Initiatives (JODI), and APEC. Pusdatin conducts data collection from units within the ESDM as well as related stakeholders, then performs processing until the intended data is sent to the coordinating agency, APERC.

"I appreciate the hard work of APERC in motivating and overseeing data collection. I hope we will be able to continue working together, both in improving the analysis of energy data, and in sharing experiences," said Ego. (sk)

Head of Communication Bureau, Public Information Services, and Cooperation
Agung Pribadi