EMR Communication Team

MINISTRY OF ENERGY AND MINERAL RESOURCES
REPUBLIC OF INDONESIA
PRESS CONFERENCE
NUMBER: 185.Pers / 04 / SJI / 2019
Date: March 3, 2019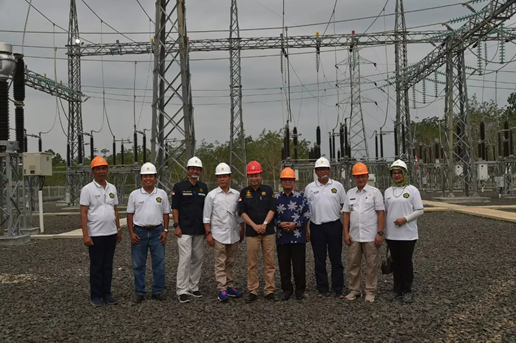 Sunday in Sarolangun, Minister Jonan Inaugurates a New Electricity Project and Artesian Well

Minister of Energy and Mineral Resources (ESDM) Ignasius Jonan, on Sunday afternoon, today (3/3), made a working visit to Sarolangun District, Jambi to inaugurate a new electricity infrastructure project and artesian wells. The inauguration was centered at the location of the Sarolangun Substation in Gunung Kembang, Sarolangun District, Sarolangun District, Jambi Province. Also attending the inauguration included Jambi Governor Fachrori Umar, Sarolangun Regent Cek Endra, Member IV of the Supreme Audit Agency (BPK) Rizal Djalil and Plt. President Commissioner of PT PLN (Persero) Ilya Avianti.
The electricity infrastructure that was inaugurated consisted of the Sarolangun 150 kV Substation, Muara Bulian-Sarolangun 150 kV Transmission, 150 kV Substation Sungai Penuh and 150 kV Bangko-Merangin-Sungai Penuh Transmission. Whereas the artesian wells inaugurated are in 6 districts, Sarolangun, Batanghari, Muaro Jambi, Tebo, Bungo, and Merangin.

The length of transmission of 150 kV Muara Bulian-Sarolangun is 83.6 kms and consists of 245 towers which aims to channel electricity from several existing plants such as Batang Hari PLTG, Selo Selo PLTG, and CNG River CNG PLTG so that it can be distributed to communities in the Regency Sarolangun and surroundings.

While the transmission length of 150 kV Bangko-Merangin-Sungai Penuh is 137.7 kms with 432 towers which aims to expand the supply of electricity to the community in Merangin, Kerinci, Sungai Penuh and surrounding areas.

In his remarks Minister Jonan said that electricity has now become a basic need of the community, so that all regions must be able to enjoy electricity without exception.
"So the 4 infrastructures that we were inaugurated are part of the trans Sumatra electricity system. Hopefully before the end of this year the trans Sumatra electricity network will be completed. So electricity that can be enjoyed by all regions in Sumatra will be the same, both in
South Sumatra, Lampung, Jambi. same, "said Minister Jonan.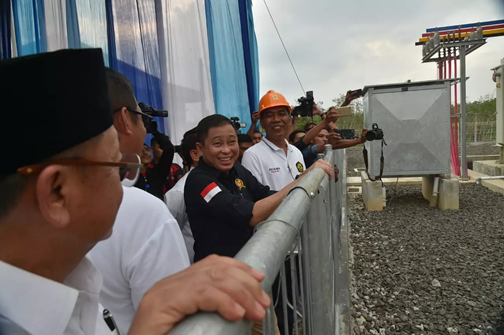 Jonan added that the national electrification ratio at the end of last year was 98.3%, and 2019 targeted to reach 99.9%. "Of course in Jambi province it can also achieve that," he added.
In providing electricity tariffs, the Government does not only consider electricity supply but the price must be affordable. "The government pays attention to people's purchasing power. The important thing is the electricity is available and the tariff is affordable. So to this day the Government is not considering an increase in electricity rates. Even starting this month PLN customers 900 VA reduced from Rp. 1,352 per kWh to Rp. 1,300 kWh," added Jonan.

On this occasion the Director General of Electricity Rida Mulyana said that the electrification ratio of Jambi Province had reached 98.09% or almost close to the national electrification ratio of 98.3%.
"While the electrification ratio in Sarolangun Regency was 92.66%, Batanghari 84.63%, Muaro Jambi 92.76%, Bungo 93.09%, Tebo 81.82%, Merangin 93.95%, Kerinci 89.17%, and Kota Sungai Penuh 89.93%, "said Rida.

With the operation of the substation and the transmission network, it will optimize electricity supply in various districts in Jambi, including replacing electricity supply from diesel-fueled plants. So that there is potential for savings in the Sarolangun area of ​​Rp. 9.2 billion per year while the Bangko-Merangin-Sungai Penuh area is Rp. 28 billion per month. In addition there is also the potential for additional sales of PLN electricity in the Soralangun area of ​​around Rp. 53 billion per year.

Artesian Well Provides Access to Clean Water for Residents
In the period of 2005 to 2018, the Geology Agency, the Ministry of Energy and Mineral Resources has built drill wells in difficult areas of clean water throughout Indonesia with 2,288 drill well units that can service 6.6 million people.

In Jambi Province itself, in the period of 2015-2018, 40 units have been built, spread across 9 districts which are capable of serving as many as 112,500 inhabitants.
In 2018, the Ministry of Energy and Mineral Resources has built 506 drill well units in 27 provinces including 12 units in 6 districts in Jambi Province. The wells are capable of serving 38,952 inhabitants. As for 2 of the 12 drill wells in Jambi we have officially opened the middle of last year.
"The most suitable one is the Governor (Jambi) proposed a clean water program for 5 years. For example 200 units. Because 200 units can provide clean water services for 700 thousand people. That's around 20% of the Jambi community," said Jonan.As we know, the 6 artesian well points in Jambi Province are in Sarolangun, Batanghari, Muaro Jambi, Tebo, Bungo and Merangin Regencies. (sk)

Head of Communication Bureau, Public Information Services, and Cooperation
Agung Pribadi (08112213555)