| Public Relations EBTKE |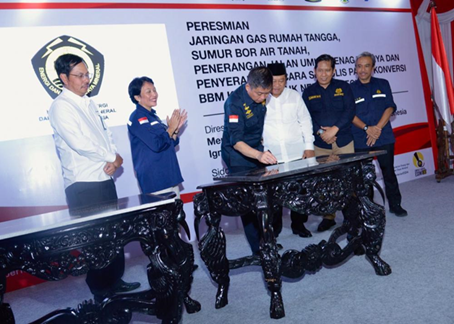 SIDOARJO - ESDM Minister Ignasius Jonan, last Friday (1/3) inaugurated a solar power public stree lighting infrastructure in Sidoarjo Regency, East Java. The inauguration of this energy infrastructure shows the Government's commitment so that the community can benefit directly from the State Budget (APBN), which in the long run can strengthen the people's economy. "This is people's funds. We (the Government) commit the citizens of Sidoarjo to be more prosperous in the future", said the Minister of Energy and Mineral Resources at Al Hikmah Mosque Perum Tas 2, Kalisampurno Village, Tanggulangin, Sidoarjo Regency.
The Public Street Lighting - Solar Power (PJU-TS) Program is a manifestation of the commitment of the Ministry of Energy and Mineral Resources to run various program activities that benefit the community from renewable energy sources. PJU-TS is a street lighting lamp that uses sunlight as a source of electrical energy. This PJU-TS lamp is very suitable for traveling in areas that are not yet reached by PLN electricity and also in areas that experience a shortage of electricity supply, especially in remote areas because its stand alone. PJU-TS can also be applied in urban areas that want to save on electricity expenses such as in the main road, residential areas, industrial estates and other public facilities.

In 2018, the PJU-TS program was implemented in 26 provinces and 167 districts / cities with 21,839 units of PJU-TS. In East Java Province there were 3,350 PJU-TS built in 14 districts / cities, of which 600 of them were built in Sidoarjo Regency and spread in 17 sub-districts. Construction of PJU-TS in Kab. Sidoarjo is a proposal from the Sidoarjo Regency Government and will later be managed and maintained by the local Regency Government.

In addition to formalizing the PJU-TS, on the same occasion Minister Jonan also inaugurated the energy infrastructure, namely the natural gas network for households and clean water bore wells. On this occasion, Minister Jonan at the same time handed over the converter kit (konkit) BBM to LPG for fishermen in Sidoarjo Regency. Present at this event, Regent of Sidoarjo Saiful Ilah, Director of Retail Marketing of PT Pertamina Mas'ud Khamid, staff of the Ministry of Energy and Mineral Resources and residents around the Village of Kalisampurno. (sk)