EMR Communication Team

MINISTRY OF ENERGY AND MINERAL RESOURCES
REPUBLIC OF INDONESIA
PRESS CONFERENCE
NUMBER: 198.Pers / 04 / SJI / 2019
Date: March 7, 2019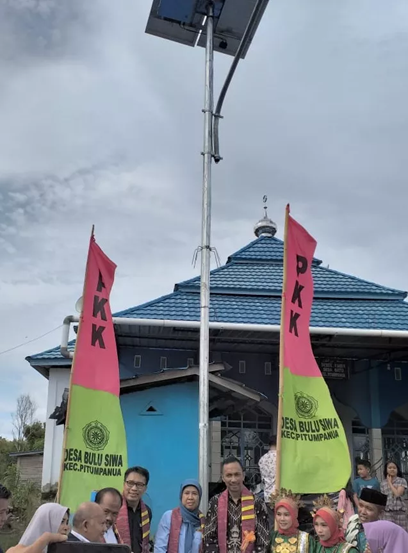 The State Budget Back Perceived Directly by the People, 363 Points Public Street - Solar Lighting (PJU-TS) for Wajo Inaugurated

Located in Bulu Siwa Village, Pitumpanua Subdistrict, Wajo Regency, South Sulawesi, today, Thursday (7/3), the presentation of 363 Points Public Street - Solar Lighting (PJU-TS) was held for residents of Wajo District.
Representing the Minister of Energy and Mineral Resources, Head of the ESDM Ministry's Organization and Governance Bureau, Bambang Utoro, said that the presence of the PJU-TS in Wajo was a manifestation of the National Budget felt directly by the people. "The utilization of the State Budget (APBN) must be felt directly by the community," said Bambang.
Present at the event, Member of the House of Representatives Commission VII, Andi Yuliani Paris, Deputy Regent of Wajo Amran Mahmud, District Head of Pitupanua and the local community.

"The Wajo District Government and Community would like to thank the Ministry of Energy and Mineral Resources for being present with the PJU-TS program and drilling wells," Amran Mahmud said on the occasion. Amran hopes that the ESDM Ministry's energy development and development program can be improved in South Sulawesi Province, especially in Wajo District.
PJU-TS is a street lighting that uses sunlight as a source of electrical energy and is integrated with batteries. This PJU-TS lamp is very suitable to be used for roads in areas that are not yet reached by PLN electricity and also areas that experience a crisis of electrical energy, especially in remote areas because of its stand alone.

PJU-TS can also be applied in urban areas such as in the main road area, residential area roads, industrial zones, and other public facilities. In the 2018 fiscal year, the Ministry of Energy and Mineral Resources through the Directorate General of EBTKE implements the installation of PJU-TS in 26 Provinces and 167 Regencies / Cities with a total of 21,839 PJU-TS.

In South Sulawesi Province itself in 2018, as many as 1,977 PJU-TS were built, spread over 15 regencies / cities. The construction of the PJU-TS in South Sulawesi Province was the proposal of the Regency / City Government as well as the initiation of Commission VII through Andi Yuliani Paris, which included in Maros District 144 Titik, Kab. Soppeng 85 points, Bone Regency 50 Point, and Wajo Regency 323 Point. (sk)

Head of Communication Bureau, Public Information Services, and Cooperation

Agung Pribadi (08112213555)