| Public Relations EBTKE |

MINISTRY OF ENERGY AND MINERAL RESOURCES OF
THE REPUBLIC OF INDONESIA
PRESS CONFERENCE
NUMBER: 199.Pers / 04 / SJI / 2019
Date: March 8, 2019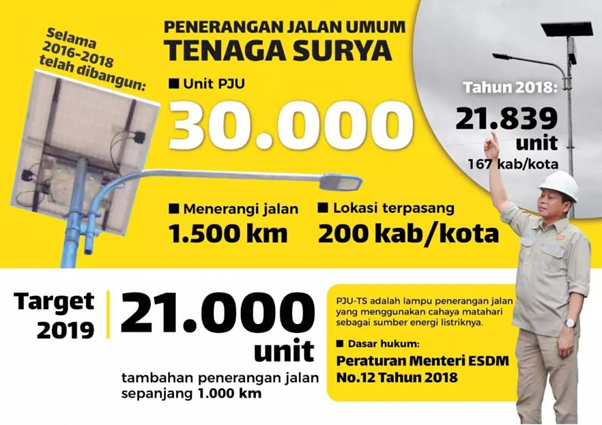 Public Street Lighting Solar Power for 1,500 km by the Ministry of Energy and Mineral Resources

In order to provide energy access and encourage the use of renewable energy in Indonesia, the Ministry of Energy and Mineral Resources through the Directorate General of New Renewable Energy and Energy Conservation (EBTKE) in the last three years (2016-2018) has built Public Street lighting -Solar Power (PJU-TS) in 30,000 road lighting points along 1,500 km in 200 districts / cities throughout Indonesia financed by the State Ministry of Energy and Mineral Resources.
ESDM Ministry Director General of EBTKE, Sutijastoto accompanied by Director General of Electricity, Rida Mulyana, said that for 2019, the Ministry of Energy and Mineral Resources is targeting additional PJU-TS at 21,000 points to illuminate 1,000 km of roads. "Local governments can still propose the construction of PJ-TS in their area for 2019," Sutijastoto said in front of the media crew in Jakarta, Friday (8/3).

According to Sutijastoto, the lighting of the PJU-TS will increase the city's economy to become more passionate. "As much as possible we try (PJU-TS) to illuminate on the highway. Lighting is one of the people's needs for welfare. Therefore we help, even though it's small but the lighting is quite good," he explained.

The Director General of Electricity also added, this PJU-TS is also a form of public money management back to the people. "This (PJU-TS) is an effort to create sufficient, reliable and affordable energy. Imagine that the length as far as Anyer to Panarukan is built in. The element of public security has increased, also helping the Regional Government to reduce bills to PLN. PJU-TS is very helpful, "Rida said.

PJU-TS is a street lighting that uses sunlight as a source of electrical energy and is integrated with batteries. This PJU-TS lamp is very suitable to be used for roads in areas that are not yet reached by PLN electricity and also areas that experience a crisis of electrical energy, especially in remote areas because of its stand alone.

PJU-TS can also be applied in urban areas such as in the main road area, residential area roads, industrial zones, and other public facilities. Especially for the 2018 budget year, the Ministry of Energy and Mineral Resources implements the installation of TS-PJU in 26 Provinces and 167 Regencies / Cities with a total of 21,839 PJU-TS.

Sutijastoto further said, in addition to PJU-TS, the ESDM Ministry also provided information and electricity solutions that were provided free of charge and focused on isolated villages that were difficult to reach by the PLN network through the Energy-Saving Solar Lamps (LTSHE) program.
"For LTSHE the achievements in 2017 have been installed for 79,556 households (5 provinces), and 2018 there are an additional 172,996 families (16 provinces). The target in 2019 will be around 100,000 LTSHE units to be distributed to un-elect communities in 22 provinces) , "concluded Sutijastoto. (sk)


Head of Communication Bureau, Public Information Services, and Cooperation
Agung Pribadi (08112213555)