DJK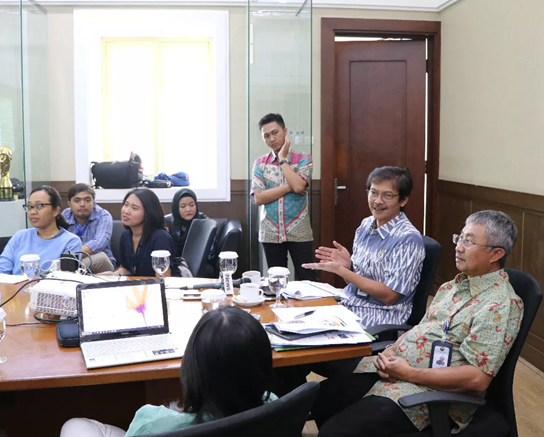 The government seeks to realize social justice through equitable energy. Efforts to achieve equitable energy are by providing sufficient, reliable and affordable energy. One indicator is the Electrification Ratio (RE). As is known, RE at the end of 2018 reached 98.3%. In 2019, the Government targets RE 99.9%. Director General of Electricity Rida Mulyana conveyed the government's strategy to achieve the target in a media gathering in front of the media crew on Friday (03/08/2019), at the Ministry of Energy and Mineral Resources Building, Jakarta
Rida began his presentation by explaining how to calculate RE. The RE formula is the number of electrified households divided by the total number of households. Ministry of Energy and Mineral Resources (ESDM) cq. The Directorate General of Electricity evaluates and calculates RE per quarter, and is reported midway through the following month. He said that after verification, the RE discussion was continued by inviting stakeholders and stated in the minutes. The intended stakeholders are the Central Statistics Agency (BPS), the provincial government, PT PLN (Persero), the Office of the Presidential Staff (KSP), the Ministry of Home Affairs, and the Ministry of Villages, Development of Disadvantaged Areas, and Transmigration. Rida emphasized that the RE number was officially issued by the Directorate General of Electricity. "Now this data (RE) comes only from us, the Directorate General of Electricity," said Rida.

In order to achieve RE 99.9% this year, there are 1,833,622 households that must be electrified. In addition to electricity with the PLN network (on grid), electrification efforts are also carried out off the grid through Energy Saving Solar Lights (LTSHE). Of these, it is estimated that there are 992,841 non-electrified households that cannot afford to install new electricity. "To connect electricity, not only the infrastructure, but also the purchasing power of the people. So it's not just the PLN infrastructure," Rida revealed. For this reason, according to Rida, synergy from various related parties is needed in order to be able to help the New eEectricity Installation Program (P2BL).

In order to increase the electrification ratio, ESDM Minister Ignasius Jonan wrote to all regional leaders to encourage Regional Owned Enterprises (BUMD) to participate in P2BL.
"Mr. Jonan has written to the Governor. There are already five provincial governments that have responded. The numbers have continued to move, both in the number of households and provinces. We hope to increase," he said. There are already five provinces that budget P2BL in their APBD, namely North Sumatra (800 households / RT), West Sumatra (272 RT), Gorontalo (850 RT), Central Java (11,000 RT), and Banten (10,000 RT).

Besides synergy with the provincial government, P2BL is also carried out through the PLN Corporate Social Responsibility (CSR) program and State-Owned Enterprise (BUMN) Synergy. Another effort is to embrace the participation of the ESDM sector business entity.

"To fulfill RE, it is not just an issue of energy. Because the electricity is sufficient, RE is very dependent on whether the community is capable or not," Rida concluded. With the synergy of various parties in P2BL, it is expected that RE's target of 99.9% can be realized this year. (sk)