| Public Relations EBTKE |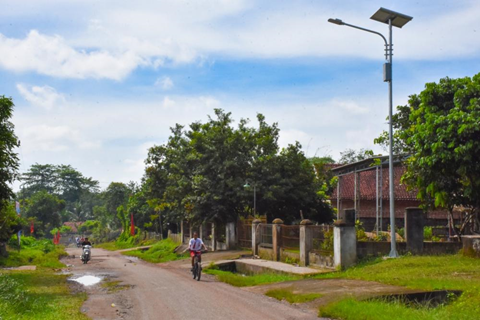 OGAN ILIR - Ministry of Energy and Mineral Resources (ESDM) through the Directorate General of New, Renewable Energy and Energy Conservation (EBTKE) again handed over 125 units of Public Street Lighting- Solar Power (PJU-TS), this time to the Government of Ogan Ilir Regency, Sumatra South, which was conducted in Betung 1 Village, Lubuk Liat Sub-District, Ogan Ilir Regency, South Sumatra.
"Public street lighting using solar power, or PJU-TS, can be a solution. PJU-TS utilizes the potential of new renewable energy in the form of solar energy which is converted into electrical energy through a process that is environmentally friendly because it produces no pollution. Lights used in PJU- TS uses LED type lights, so it is more energy efficient and has a longer service life, "said Inspector III of the ESDM Ministry Inspectorate General Luh Nyoman Puspa Dewi, who was present in Betung 1 Village, to symbolically hand over, representing the Minister of Energy and Mineral Resources. Present on the occasion were Members of Commission VII Yulian Gunhar, Regional Secretary of Ogan Ilir Rahman Rasyidi, and community beneficiaries of PJU-TS in 7 sub districts.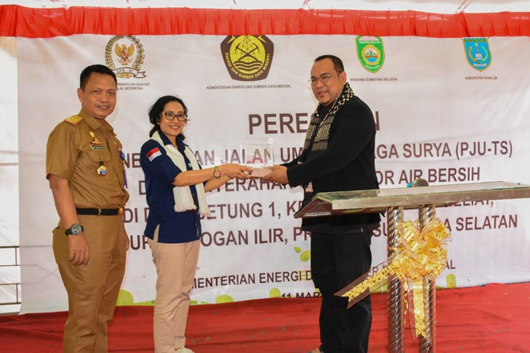 Puspa explained that the PJU-TS installation program is one manifestation of the commitment of the Ministry of Energy and Mineral Resources and the Regional Government to run various program activities that benefit the community from renewable energy. "The construction of the PJU-TS in the Ogan Ilir Regency of South Sumatra Province is a proposal from the Regency Government initiated by Member of the House of Representatives Commission VII Mr. Yulian Gunhar. In 2018, Ogan Ilir received 125 points for the installation of PJU-TS," Puspa added.
In 2018 the PJU-TS program was implemented in 26 provinces, 167 regencies with 21,839 units of PJU-TS. In South Sumatra Province, 600 PJU-TS Units spread across 9 Regencies, namely Ogan Ilir, Banyuasin, Lubuk Linggau, Musi Rawas, North Musi Rawas, Muara Enim, OKU, Pali and Empat Lawang.

According to Puspa, the growth of PJU has increased very rapidly in the last 5-6 years. According to Statistics data published by PT. PLN (Persero), in 2015 nationally there were 186,118 PJU systems or grew by 47% compared to 2010. However, energy consumption and emissions of PJU were still quite high because most of them still use technology that tends to be wasteful, has a relatively short service life and power plants that provide power to PJU still use fossil energy sources.
On the same occasion, Secretary Ogan Ilir, Rahman Rasyidi expressed his appreciation for the support of all parties related to the implementation of the PJU-TS development in Ogan Ilir and advised the community members to maintain the infrastructure that had been built. "Please use whatever has become the assets of our region because this is not easy to obtain. Existing assets, we must maintain. To be useful long life, "he said. (sk)