EMR Communication
MINISTRY OF ENERGY AND MINERAL RESOURCES OF
THE REPUBLIC OF INDONESIA
PRESS CONFERENCE
NUMBER: 217.Pers / 04 / SJI / 2019
Date: March 14, 2019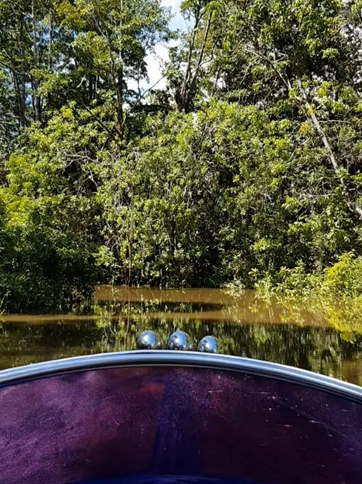 Riyan's Story Distributes Solar Lights at Mappi Papua

Not an easy trip to distribute Energy-Saving Solar Lights (LTSHE) to the inland of Papua. Landscapes and difficult terrain are still obstacles. Sometimes to distribute LTSHE, it takes more than 12 hours using a speed boat to reach the destination. However, this obstacle did not discourage Riyan Suhendra's enthusiasm for distributing LTSHE to villages in need.
Riyan is one of the LTSHE distributors who works in Mappi Regency, Papua Province.
"The obstacles are very diverse, a challenge for me and the team. But what we feel the most is the water constraints that sometimes tide and ebb, because we distribute through river and swamp lines. When the water is receding, we are forced to stop waiting for the tide to get continue the journey, "said the 34-year-old man when met by the team at www.esdm.go.id in the Mappi Regent Office Hall, Papua Province, Tuesday (12/3).

According to Riyan, not only are geographical constraints a challenge for the distribution of LTSHE. Weather that can change suddenly sometimes hampers the distribution process. "If in the middle of our trip there was a sudden heavy rain, inevitably the team had to find the nearest village to lean on and wait for the weather to be a bit sunny to continue the journey," Ryan said.
An interesting experience was expressed by Riyan, "Once our ship was forced to stay on the road even though it was raining, the ship's propellers caught transverse plants, surrender to GOD," said the man who had long joined with PT. Wijaya Karya (WIKA), a contractor in charge of distributing LTSHE in this Mappi region.

But behind all that, he felt proud, thousands of LTSHE were successfully distributed to the people spread across 9 districts in Mappi District. "Venaha, Bamgi, Yakomi, Obaa, Passue, Citakmitak, Kaibar, Passue Bawah and Ti-Zain, all have their own stories. I am happy to be able to help those who were dark if the night can now be bright," he said proudly.

Riyan's sweat was not useless, the happy smile of the residents seemed to welcome the group who distributed 1,303 units of Energy-Saving Solar Lights (LTSHE) that afternoon (12/3). Now people in Mappi District no longer need to struggle with smoke at night. The costs incurred are also far more economical because people do not need to buy kerosene anymore to revive the lamps. Their evenings are now much brighter and they can move more productively than before. Children can learn and parents can do activities even though the night has picked up.
LTSHE is a good start from the form of concern of the central government to answer the problems in remote areas. As stated by Mappi Regency Regent, Kristosimus Agawemu, "The Mappi Regency problem may be similar to other districts in Papua. Perhaps the initial step taken by the Ministry of Energy and Mineral Resources in the electricity sector through the submission of the LTSHE can encourage other sectors such as education, health and economy in order to be more progress ". (sk)

Head of Communication Bureau, Public Information Services, and Cooperation

Agung Pribadi (08112213555)