EMR Communication Team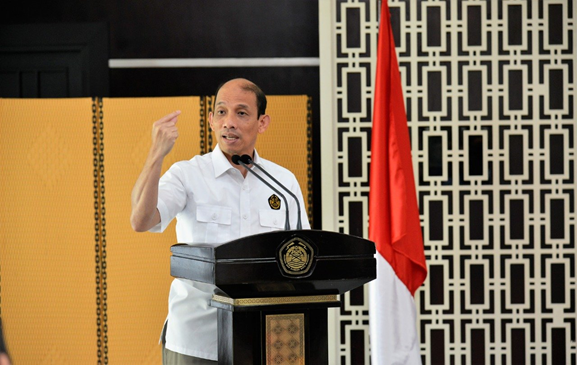 MINISTRY OF ENERGY AND MINERAL RESOURCES OF THE REPUBLIC OF INDONESIA
PRESS CONFERENCE
NUMBER: 257.Pers / 04 / SJI / 2019
Date: March 28, 2019

Electricity and EBTKE Safety Certification, Arcandra Invites Stakeholders to Use ESDM BPSDM Certification

Competent Human Resource (HR) needs in the Electricity and Energy Management subsector are currently increasing, along with industrial developments in these two sub-sectors. To help accelerate the development of HR competencies, the Human Resource Development Agency of the Ministry of Energy and Mineral Resources (BPSDM ESDM) has provided competency training as well as competency and professional certification tests by Professional Certification Institutions (LSP) ESDM BPSDM and Competency Certification Institutions (LSK) PPSDM KEBTKE ESDM .
In the Sharing Session of HR Competency Development in Electrical and Energy Management in the Power Plant Industry, Deputy Minister of ESDM Arcandra Tahar invited the Independent Power Producer (IPP), who was the participant of the Sharing Session, to utilize the ESDM BPSDM LSP and LSK to print people who have competencies in the field of electricity and education safety.

"Use our BPSDM without coercion and sincerely, this institution we want to be a partner for all of you in terms of printing people who have competencies in the field of safety in electricity and education. This is not perfect yet, but if not, we start to make perfect, then who do we expect? " Arcandra said in Jakarta, Thursday (28/3).

Arcandra also asked about the willingness of IPP to work together with ESDM BPSDM in improving the competence of workers. "I asked Industrialist who was present today, would not cooperate with BPSDM in terms of improving competence?" Arcandra asked. The participants also agreed to work together with ESDM BPSDM.

Arcandra further explained that the certification carried out by ESDM BPSDM was national in nature, could be used throughout Indonesia. "Certification can be used throughout Indonesia. Our goal is to improve the competence of certified people in the field of electricity safety and EBTKE," he added.

"Later, the people we certify will hopefully have flying hours, who can and have competencies, so that you at the IPP also feel comfortable, that the people who have been certified are truly competent," concluded Arcandra.

In addition to introducing the Human Resource Electricity and EBTKE Development Center (PPSDM KEBTKE), today's Sharing Session also aims to enable IPPs to train and certify technical personnel involved in the electricity supply business in accordance with the competency standards in PPSDM KEBTKE. Besides that,IPP is also expected to train and certify auditors and energy managers within the framework of energy management through PPSDM KEBTKE.

On this occasion the Deputy Minister of ESDM also witnessed the signing of a Memorandum of Understanding between the Human Resource Development Agency of the Ministry of Energy and Mineral Resources (BPSDM ESDM) with:

1. Vocational School of Gadjah Mada University
2. Bandung Institute of Technology
3. Yogyakarta State University
4. Faculty of Engineering, Diponegoro University
5. Vocational School of Diponegoro University
6. Malang State Polytechnic
7. PLN Technology College
8. Immanuel High School
9. PT Swen Innovation Transfer
10. PT Krakatau Daya Steel.

In addition, there was also the submission of Accreditation Certificate the ESDM Sector Training Institute by the Chairman of the Accreditation Committee of the ESDM Sector Training Institute IGN Wiratmaja Puja, to the Head of the KEBTKE PPSDM, Head of Oil and Gas PPSDM, Head of Geominerba PPSDM, Head of Apparatus PPSDM, Head of Garda Power Mandiri, Head of Education and Training Center PLN, and the Head of the Implementation Unit Education and Training Semarang. (sk)
Head of Communication Bureau, Public Information Services, and Cooperation
Agung Pribadi (08112213555)