EMR Communication Team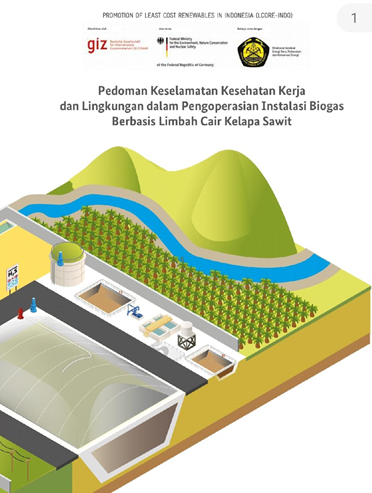 MINISTRY OF ENERGY AND MINERAL RESOURCES OF
THE REPUBLIC OF INDONESIA
PRESS CONFERENCE
NUMBER: 259.Pers / 04 / SJI / 2019
Date: March 28, 2019

Launch the Guidebook, the Government Increases Safety and Occupational Health at Biogas Generators

The Ministry of Energy and Mineral Resources through the Directorate General of New and Renewable Energy and Energy Conservation (EBTKE) pays great attention to safety and occupational health (K3) for business people as well as environmental impacts resulting from the management of Biogas Power Plants (PLTBg). This is indicated by launching the Guidelines for Occupational Health and Environmental Safety (K3L) Guidelines in the Operation of Biogas Installations Based on Palm Oil Liquid Waste
"This book is a reference and guide to the Directorate General of EBTKE,c.q the Bioenergy Directorate, in monitoring and evaluating the implementation of Occupational Health and Environmental Safety (K3L) in biogas installations based on palm oil liquid waste," said Biogas Director Andriah Feby Misna representing the Director General of EBTKE during the book launch at the Indonesia Kempinski Jakarta Hotel , Thursday (3/28).

Feby revealed that this book would be a reference for related stakeholders in conducting K3L supervision. So that it can improve the safety services and health of workers in the Biogas industry.
She also did not forget to thank the Deutsche Gesellschaft fur Internationale Zusammenarbeit (GIZ) who participated in the preparation of the book.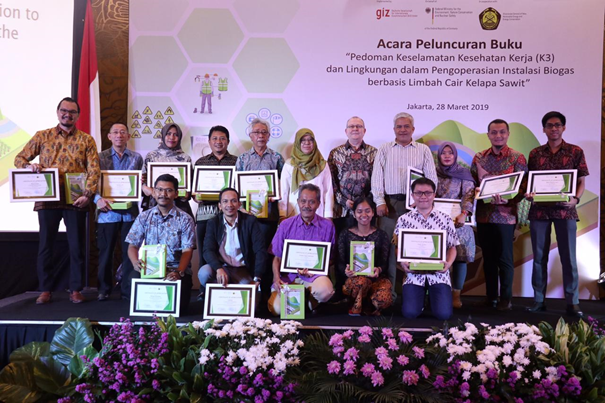 "Thank you to GIZ for its great contribution in supporting the development of EBT in Indonesia, all stakeholders who have contributed to the preparation of this guideline," she said.
This handbook is one of the outputs of the implementation of the Strategic Exploration of Economic Mitigation Potential through Renewables (ExploRE) Project which is a technical cooperation activity between the Government of Indonesia through the Directorate General of EBTKE and GIZ in the field of renewable energy. "Starting from the end of 2017 by the Bioenergy Directorate as a K3 guideline benchmark. Then it was followed up in 2018 through cooperation with GIZ," Feby said.

In general, this guidebook aims to provide guidance on the operational safety standards of biogas plants based on palm oil liquid waste to protect the health, safety and environment of workers in the installation. In the book, divided into four important parts, including:

a) Chapter 1 Introduction, Includes Objectives and scope, general description of regulation and installation of PLTBg;
b) Chapter 2 Risk Management of Biogas Installation, which includes the identification of potential hazards, risk assessment, hazard control, and minimum safety facilities;
c) Chapter 3 Hazards Specifications and Controls, related to specific hazards that have the potential to occur in a PLTBg installation environment;
d) Chapter 4 Monitoring and Testing of Safety and Environment.

The use of palm oil liquid waste or commonly called POME (Palm Oil Mill Effluent) itself is a raw material for PLTBg. To date there are more than 50 (fifty) biogas installations based on palm oil waste operating in Indonesia.

"POME provides multiple benefits, in addition to producing electricity, it also has a positive impact on the environment, namely utilizing waste while reducing greenhouse gases," said Feby.
For information, the Government of Indonesia projects GHG emissions from the Energy sector to increase almost four-fold compared to 2010 GHG emissions. "The target of reducing energy sector GHG emissions by 2030 is 314 million tons of CO2e or 11% of the total target reduction 29%, "concluded Feby. (sk)

Head of Communication Bureau, Public Information Services, and Cooperation
Agung Pribadi (08112213555)