EMR Communication Team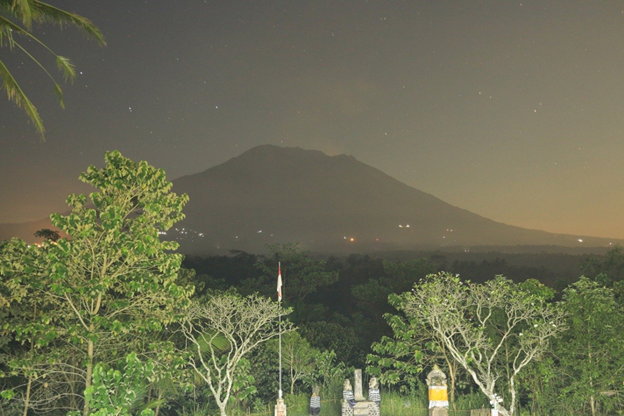 MINISTRY OF ENERGY AND MINERAL RESOURCES
REPUBLIC OF INDONESIA
PRESS CONFERENCE
NUMBER: 302.Pers / 04 / SJI / 2019
Date: April 21, 2019

Mount Agung Eruption, Estimated Zone of Danger of 4 Kilometers from the Crater

Gunung Agung in Karangasem Regency, Bali Province, this evening, Sunday (21/4), at 6:55 p.m had eruption. Mount Agung Observation Post observes the height of the ash column approximately 3,000 m above the peak or about 6,142 m above sea level. The ash column was observed to be gray with thick intensity leaning westward. This eruption is recorded on a seismogram with a maximum amplitude of 25 mm and a duration of about 1 minute 22 seconds.
Now, the activity level of Mount Agung is still at Level III (Caution) with an Estimated Hazard Zone within a 4 kilometer radius of the crater.

The Center for Volcanology and Geological Disaster Mitigation (PVMBG) of the Geological Agency ask on people around Mount Agung and climbers / visitors / tourists to stay away, not climb, and not carry out any activities in the Estimated Hazard Zone.

"The Estimated Hazard Zone is dynamic and continues to be evaluated and can be changed at any time following the development of the most current / most recent G. Agung observation data," said PVMBG Head Kasbani.

PVMBG also recommends that the people living and doing activities around the rivers flowing up in Mount Agung be aware of the potential secondary threat of rain lava flows that can occur, especially during the rainy season, and if the eruption material is still exposed in the peak area. The land area of ​​the rain lava follows the upstream rivers in Mount Agung.

Based on the report as the photo above, at 8:27 p.m. WITA Mount Agung looks quite clear, the eruption situation does not occur again. (sk)
Head of Communication Bureau, Public Information Services, and Cooperation
Agung Pribadi (08112213555)