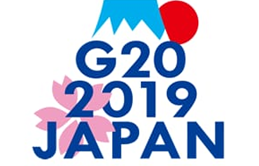 MINISTRY OF ENERGY AND MINERAL RESOURCES
REPUBLIC OF INDONESIA
PRESS CONFERENCE
NUMBER: 309.Pers / 04 / SJI / 2019
Date: April 24, 2019

Affordability of Energy Access Becomes the Main Message of Indonesian Diplomacy at the Japan G20 Energy Meeting

The Indonesian government pays great attention to the process of global energy transition in G20 interstate diplomacy in Toyama, Japan. Energy access is the main discussion point for the Delegation of the Republic of Indonesia (DELRI) at the 2nd Meeting of the G20 Energy Transitions Working Group (ETWG). For information, Indonesia is the only ASEAN country that is a member of the G20.
"Indonesia adheres to voicing energy access by considering aspects of affordability and equity " said Minister of Expert Staff for Strategic Planning Yudo Dwinanda Priaadi as G20 Permanent Delegation from the Ministry of Energy and Mineral Resources while attending the meeting on April 18-19.

In addition to emphasizing the importance of access to energy, Indonesia also intensively promotes bioenergy and biofuel to become part of Renewable Energy. "After we struggled since the G20 in Argentina 2018, this message has received positive support without resistance from other G20 members, such as Brazil, Italy and Argentina," added Yudo.

In the previous ETWG meeting, in February, Indonesia introduced a verbal (Non-Paper) program "Greening the Fuel". This step was taken by the Indonesian Government's efforts to promote green fuel as one of the energy transition paths, with the basic assumption that the target of global renewable energy is not able to be achieved without the contribution of biofuel / green fuel.

The International Renewable Energy Agency (IRENA) study in 2018 predicts that bioenergy will contribute to a quarter of the global energy mix in the transportation sector by 2050. This challenge has been answered Indonesia as the initiating country in the world that has implemented Co-Processing Crude Palm Oil (CPO) to Green Gasoline and Green Liquified Petroleum Gas (LPG) for commercial scale.

At this meeting, the G20 energy forum was held in ETWG which was held in parallel with the Environment Senior Officials Meeting (ESOM). This year's ETWG takes the main theme of 3E + S (Energy Security, Economic Efficiency and Environment (3E), and Safety (S). The discussion in ETWG and ESOM will be adopted in the Ministerial Communique on Energy Transitions and Sustainable Growth as a commitment document that will be agreed on Ministerial Meeting on Energy Transitions and Sustainable Growth in Karuizawa, Japan on 15-16 June 2019.

In the midst of Japan's high priority on Energy Innovation such as Hydrogen, Carbon Capture Storage and Utilization (CCUS), and Well-to-Wheel Analysis, Indonesia is emphasizing the importance of reference to the Sustainable Development Goals (SGDs), especially SDG7 in Ministerial Communique.

On the sidelines of the ETWG trial, Indonesia Budget (APBN) Policy Director Hidayat Amir as a representative of the Ministry of Finance's Fiscal Policy Agency presented Indonesia's presentation on Effort to Phase Out and Rationalise Fossil Fuel Subsidy in the OECD session: Update on Inefficient Fossil Fuel Subsidies (IFFS). This presentation is a report of Indonesia's success in reducing and transferring fossil fuel subsidies for productive sectors and public services, which was appointed at the Indonesia-Italy G20 IFFS Peer Review Activity which was completed last year. The delegation's presentation received appreciation from the forum and became an example of policy best practices that could be applied by other G20 countries. Argentina will follow Indonesia's footsteps by conducting peer reviews with Canada this year.

For information, the Group-of-Twenty (G20) consists of 20 groups of countries with the world's largest economy that cover 85% of the world's Gross Domestic Product (GDP), 75% of international trade volume, 81% of global carbon emissions from the energy sector, and 77% of consumption global energy. Equally important, the decisions and commitments at the G20 are a reference and influence the position of Indonesia and other G20 countries in various international forums. In addition to discussing global economic and financial issues, the G20 has a number of forums that discuss other strategic issues such as energy, climate change, digital economy and others. (sk)

Head of Communication Bureau, Public Information Services, and Cooperation
Agung Pribadi (08112213555)