| Public Relations EBTKE |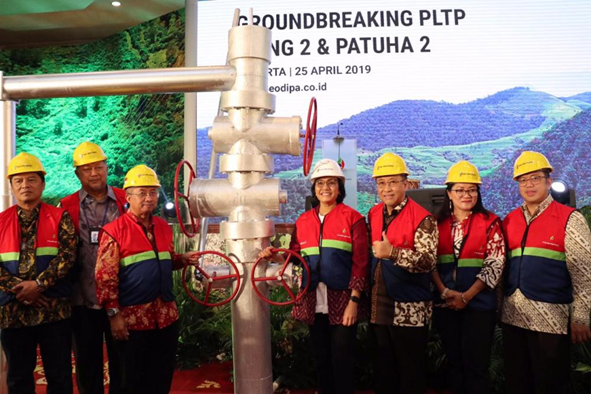 JAKARTA - The Government's challenges going forward, especially in the energy sector, namely the fulfillment of energy needs for the people of Indonesia who are increasingly amidst the situation of fossil energy production continues to decline. The government must be able to manage energy supply so that energy sovereignty, security and independence are expected to be achieved through sustainable energy development. One of the programs is through increasing utilization of geothermal energy.
Indonesia has a large geothermal potential of 29 GW, however the installed capacity of Geothermal Power Plants (PLTP) has only reached 1,948 MW or around 7% of the potential in 2018. In accordance with the RUPTL target of PT. PLN 2019 - 2028, namely 6310 MW in 2025 in the next 6 years, must be able to fulfill a shortage of capacity of 5251 MW or equal to an average of 720 MW / year.

In the energy mix for electricity generation, the role of geothermal energy is targeted to increase from 5% to 11% in 2025. The development of geothermal energy has a strategic thing for national energy security through substitution of petroleum imports which is approximately 100,000 barrels / day by 2025. Utilization geothermal will strengthen the national economy by reducing the influence of world oil fluctuations on the Indonesian economy. The use of geothermal energy will affect fuel consumption and simultaneously reduce fuel imports.

Geothermal is an environmentally friendly renewable energy. Another advantage of geothermal energy is that geothermal plants can be operated up to 90% of capacity and operating time of up to 30 years. Geothermal development also has an important role in the development of infrastructure and economic areas in the region around geothermal potential.

Answering this challenge, PT. Geodipa Energi Indonesia, today (Thursday, 25/4) officially conducted Groundbreaking Unit 2 of Dieng and Patuha PLTP, symbolically carried out in the Dhanapala Building Ministry of Finance and was immediately attended by Minister of Finance, Sri Mulyani Indrawati and Minister of Energy and Mineral Resources, in this case represented by Director General of EBTKE, FX Sutijastoto.

PT. Geo Dipa Energi (Persero ) is one of the Special Mission Vehicles (SMV) under the Ministry of Finance that has a mission to support Government programs in the supply of geothermal power. As of 2018, PT Geo Dipa Energi has only contributed 6% of the total installed capacity or 115 MW from the Dieng PLTP of 60 MW and Patuha PLTP of 55 MW.

Director of PT. Geo Dipa Energi (Persero), Riki Firmandha Ibrahim, said that PLTP Unit 2 Dieng and Patuha with a capacity of 60 MW each will be completed in 2023, funded by the Asian Development Bank (ADB). Present at this opportunity were ADB representatives, namely Director, Energy Division, South East Regional Department, Asian Development Bank (ADB), Andrew Jeffries.

In addition, PT Geo Dipa Energi is also committed to developing the Mount Arjuno Welirang Geothermal Working Area (WKP) of 185 MW and the Geothermal Working Area (WKP) of Umbul Telomoyo Temple for 55 MW. Geo Dipa Energi is also building its own, 10-15 MW Small Scale Power Plant which will be operational in 2020, with Funding from BUMN SMV, PT SMI Persero. Also 10-15 MW of Organic Rankine Cycle / Bynari Power Plant, with the BOT development scheme, which will operate in early 2022. So that by 2023, GeoDipa will increase its electricity production capacity to 270 MW.

"I thank you in your capacity as the Minister of Finance can always partner with other Ministries in order to continue to encourage and formulate energy policies in order to continue to meet Indonesia's economic needs, but also at the same time pay attention to sustainability in producing increasing amounts of energy," said Sri Mulyani in her speech. Minister Sri also explained that today's project is a kind of concrete manifestation that tries to cover all objectives and needs. Needs include:

- electricity demand continues to increase
- support the achievement of sustainable development goals including poverty reduction
- support the achievement of global commitments in reducing climate change
- fulfilling the achievement of an energy mix, which is a commitment to reach 23% of the composition of the energy mix in Indonesia originating from EBT.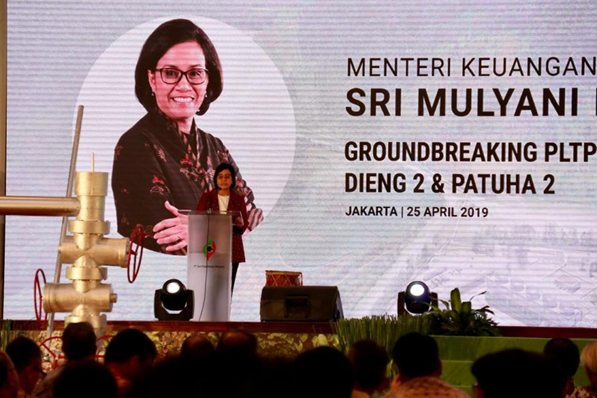 Director General of EBTKE, F.X. Sutijastoto in his remarks on behalf of the Minister of Energy and Mineral Resources, said that the Government hoped that the geothermal potential of Geo Dipa would continue to increase through the development of new Geothermal Working Area (WKP) and the synergy of State Owned Enterprise (BUMN) which had a significant contribution to the development of geothermal energy in Indonesia. "There are not a few obstacles that PT Geo Dipa Energi has gone through to reach a point like today. There have been many obstacles to the development of geothermal energy that can be solved by PT. Geo Dipa Energi well. We greatly expect that PT Geo Dipa Energi can be more advanced and develop into a more solid geothermal business entity and contribute greatly to the supply of electricity to the people of Indonesia. I thank PT Geo Dipa Energi for actively participating in geothermal development in Indonesia, and I hope that the development of Dieng Unit 2 and Patuha Unit 2 geothermal energy can be carried out without hindrance, "said Director General Toto.

On the same occasion, the signing of a Memorandum of Understanding between the Geological Agency and PT. Geo Dipa Energi (Persero) about Geological Research and Research for Geothermal Development. The scope of this Memorandum of Understanding covers investigation and research in the field of geology, preparation of geological data and information, utilization of survey facilities and laboratories, enhancement of human resource capabilities, provision of geothermal data and information for the exploration and other activities agreed upon by the parties.

Not only with the Geology Agency, PT. Geodipa Energi Indonesia also signed a Memorandum of Understanding with the Asian Development Bank, PT Sarana Multi Infrastruktur, and PT. Penjamin Infrastruktur Indonesia, to build a shared vision and mission to accelerate the implementation of geothermal project development in Indonesia, and build commitment to the active role of State Owned Enterprise (BUMN) to open the Area Indonesian National Economy, based on local domestic energy utilization. (sk)