EMR Communication Team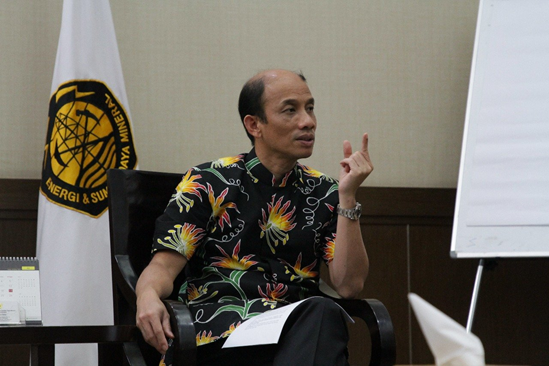 MINISTRY OF ENERGY AND MINERAL RESOURCES
REPUBLIC OF INDONESIA
PRESS CONFERENCE
NUMBER: 348.Pers / 04 / SJI / 2019
Date: May 11, 2019

Energy Security Becomes the Estuary of National Energy Policy

Deputy Minister of ESDM Arcandra Tahar stressed that various reformed policies in the energy and mineral sector aim to create national energy security. The hope, Indonesia is able to meet domestic energy needs independently.

"All (policies) that we design will aim at energy security. That's when whatever happens out there, Indonesia will be able to try own energy needs without relying on other countries," said Arcandra at the ESDM Ministry Office in Jakarta on Friday (10 / 5).

Even so, the Government remains realistic in seeing the balance of conditions between energy needs and the rate of energy availability. Moreover, the availability of energy for the people of Indonesia has not been fully distributed.

Arcandra assessed that the use of fossil fuels is indeed enough to help provide energy cheaply, but limited availability requires the Government to look for other ways so that it can slowly rely solely on fossil energy in providing energy.

"We must set the strategy whether it is the form of fossil fuel or renewable energy as long as our energy management concept comes from domestic sources. From foreign-based supply to domestic based supply," said Arcandra.

The change in the energy management paradigm, for Arcandra, has an important meaning because the fulfillment of energy from within the country will reduce dependence on fossil fuels, especially those from oil and coal.

Petroleum is considered by Arcandra to be quite dependent on the availability of world crude oil which is influenced by global geopolitics and the supply chain. This often makes prices unstable.

One of the energies that can become self-sufficient is electricity. "What makes us not dependent on other countries is electricity. In the future, what is called domestic based supply is the energy of electricity," said Arcandra.

Arcandra said that electric vehicles and generators are two main examples of how the important role of Indonesia is able to produce energy sources independently because of the abundant availability in the country. (sk)

Head of Communication Bureau, Public Information Services, and Cooperation
Agung Pribadi (08112213555)