EMR Communication Team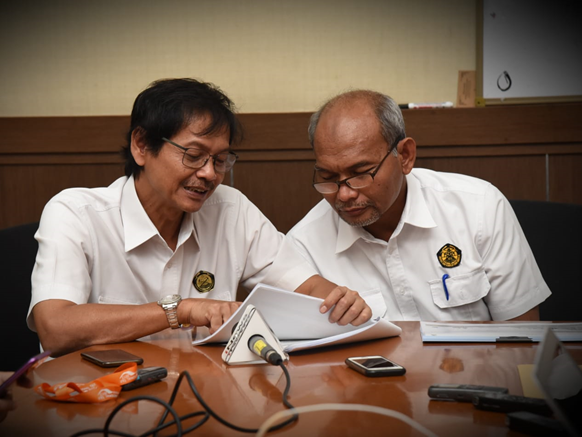 MINISTRY OF ENERGY AND MINERAL RESOURCES OF
THE REPUBLIC OF INDONESIA
PRESS CONFERENCE
NUMBER: 350.Pers / 04 / SJI / 2019
Date: May 13, 2019

Monitor Energy Supply, ESDM Opens Eid Post

In order to monitor energy supply during the month of Ramadan and Eid al-Fitr 1440 H, the Ministry of Energy and Mineral Resources (ESDM) reopened the national post for the ESDM sector which began to be effective on D-15 to H + 13 Eid, namely 21 May 2019 June 21, 2019.
"The ESDM sector post will be longer than the national post, H-7 and H + 7," said Director General of Electricity Rida Mulyana appointed by ESDM Minister Ignasius Jonan as coordinator of the 2019 national post in Jakarta, Monday (13/5).

Rida said that his party would coordinate with stakeholders in the energy sector and monitor the field conditions pre and post Eid. In addition, monitoring news from credible sources.

In detail, the national post of the ESDM sector will be tasked with monitoring five major jobs, covering the latest conditions related to the supply of fuel oil (gas), gas (Liquefied Petroleum Gas / LPG, Gas Networks, Fuel Gas / CNG) to electricity. In addition, the national post will also anticipate geological disaster.

The national post period is divided into two stages. Shift I works from 10:00 - 17:00 WIB followed by shift II which starts actively at 15:00 - 21:00 WIB. "The center of this activity is located at the Tendean BPH Migas office," explained Rida.

Concretely, Rida guarantees that the provision of fuel is guaranteed to be safe through additional kiosks in several travelers' routes. "As of May 10, the average projection of the availability of 9 types of fuel stocks is above 20 days," he said.

Safe guarantees also occur in LPG supply to electricity conditions. "As in previous years, because many of the travelers, factories and shops were closed, electricity consumption in big cities has decreased by 5%," said Rida.

To get information regarding real time events, the national post also provides reporting services through call centers / hotlines in several sub-sectors, including:

a.Oil Fuel ( BBM) / Gas networking (Jargas) / Liquid Petroleum Gas (LPG),
021-5276709 (BPH Migas),
1-500-000 (Pertamina),
021-633300 (PGN) and
021-531110 (AKR)
b. Electricity, (area code) 123
c. Geological Disaster, 022-7272606
d. ESDM Call Center Service 136
(sk)

Head of Communication Bureau, Public Information Services, and Cooperation
Agung Pribadi (08112213555)