| Public Relations EBTKE |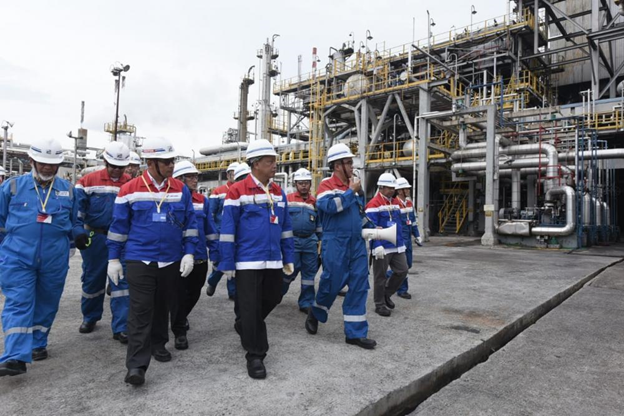 DUMAI - The Government supports and appreciates the development of high-tech catalysts carried out by PT. Pertamina (Persero) and the Bandung Institute of Technology (ITB) which are used for co-processing in Dumai Refinery Unit (RU) II. This was revealed by the Director of Bioenergy, Andriah Feby Misna during a review of the testing of the Red and White Catalyst in the Processing Plant RU II Dumai on Thursday (17/5).
"Currently biofuels are one of the main contributors to the share of new and renewable energy in the primary energy mix. With the development of biohydrocarbon technology, especially through the innovation of the nation's people, it is expected that the role of biofuels will be wider and Indonesia can host "own country in terms of the use of local natural resources for the sake of national energy security," said Feby.

Before testing at Dumai Refinery, PT. Pertamina (Persero) succeeded in carrying out innovations in the development of Biofuel type gasoline (petrol) through a co-processing system in the Plaju Refinery Unit (RU) III South Sumatra. This time co-processing is run at Pertamina RU II Dumai Refinery to create biofuel with the type of gasoil (diesel oil).

Co-processing or processing of fuels by combining fossil oil raw materials and biofuel raw materials was carried out using high-tech catalysts from the development carried out at Pertamina's Research and Technology Center with the Bandung Institute of Technology (ITB).

Site visit and monitoring of the development of the program was carried out by Minister of Research and Higher Education Mohamad Nasir accompanied by Director of Investment Planning and Risk Monitoring (PIMR) Heru Setiawan, Rector of Bandung Institute of Technology (ITB) Kadarsyah Suryadi and Nandang Kurnaedi GM Pertamina RU II at Pertamina Refinery Dumai.

On this occasion, Nandang explained that the development of this catalyst had been carried out since 2008 until the creation of a second generation catalyst which had been an optimal co-processing support element in the RU II Refinery. The entire process of developing catalysts was carried out by the Best Indonesian youth was also tested at the Pertamina Refinery.

After successfully creating a catalyst, CPO processing was carried out at the Distillate Hydrotreating Unit (DHDT) facility located at the Pertamina Dumai refinery, with a capacity of 12.6 MBSD (Million Barrel Steam Per Day). The replacement of old catalysts with a new version of domestic creation began in February 2019. The injection of biofuel raw materials began in March 2019.

"From the results of the trial, processing with a co-processing system in this DHDT unit can absorb RBDPO feeds up to 12%. The direct mixing of RBDPO with fossil fuels in these refineries is technically more perfect with chemical processes, resulting in higher quality gasoil components. because the cetane number has increased to 58 with lower sulfur content ", said Nandang.

The CPO used is a type of crude palm oil that has been processed and cleaned of sap and odor, also known as RBDPO (Refined Bleached Deodorized Palm Oil). The RBDPO is then mixed with fossil fuel sources in refineries and processed with chemical processes to produce environmentally friendly diesel fuel.

The government hopes that the success of the red and white catalyst performance for the production of green-diesel through co-processing up to 12.5% ​​on feed at the RU II Dumai refinery can be duplicated at other Pertamina refineries and will be a top-up from the mandatory Biodiesel which is currently underway. "If the implementation of Biodiesel is limited to a certain percentage because of its technical characteristics, then it is different from the production of green-diesel / HVO which in this test is proven to produce better quality products. This can be seen from the increase in cetane index and decrease in sulfur," Feby said.

She also said that the synergy of various sectors and agencies is absolutely necessary so that these bio hydrocarbons can be implemented commercially. "From the upstream side, it is necessary to accelerate the production of industrial vegetable oil technologies, namely industrial palm oil and IKO (industrial kernel oil) as more efficient hydrocarbon feedstock. In terms of production, the need to accelerate the establishment of red and white catalyst factories and technology development for standalone processes And from the downstream side, we from the Ministry of Energy and Mineral Resources are working to develop the policies, standards and incentives needed to encourage the implementation of this bio hydrocarbon, "she said. (sk)