EMR Communication Team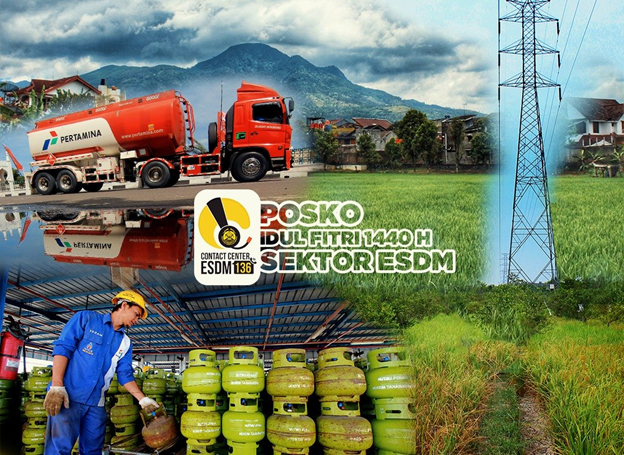 MINISTRY OF ENERGY AND MINERAL RESOURCES
REPUBLIC OF INDONESIA
PRESS CONFERENCE
NUMBER: 370.Pers / 04 / SJI / 2019
Date: May 27, 2019

Towards Week Eid Back home (Mudik), the ESDM Sector is Safely Monitored
Entering Eid homecoming weekend, the Ministry of Energy and Mineral Resources continues to ensure that the supply and distribution of energy to the community runs well and smoothly. This is to provide peace and comfort for the people when going home and celebrate Eid -Fitr 1440 H.
Based on the daily report of the National Post for Energy and Mineral Resources Sector Eid -Fitr 1440 H, until Sunday 26 May 2019 night, the supply and distribution of fuel oil, Liquified Petroleum Gas (LPG), natural gas for households, and electricity were monitored in safe conditions.

BBM stock is in normal condition, with coverage days for Premium type BBM 21 days; Pertalite 22 days; Pertamax / Akra 92 23 days; Solar / Akrasol 26 days; Kerosene 57 days; and 49 days Avtur.
Meanwhile the condition of LPG stock was also monitored under normal conditions, with a total stock of 333,279 MT (metric tons) and realization of distribution of 24,336 MT with coverage days of around 15 days.

For the electricity sector, data dated May 25, 2019, the peak night load period shows the national electricity system in a safe condition. Overall, National Supply Capability is 36,542.88 MW and Peak Load is 33,815.82 MW so National Power Reserve Capacity is 2,727.06 MW. Four electricity systems were recorded in standby, namely SBU (North Sumatra), Nias, Bima and Ambon.

Regarding the geological disaster report, an earthquake was reported on May 26, 2019 at 12:37:57 WIB with a magnitude of 5.0 at a depth of 10 km and a distance of 22 km northeast of Keerom, Papua. The earthquake could also be felt in Jayapura on the scale of MMI II-III. The Geological Agency reported that the earthquake had no tsunami potential.

The Command Post also reported 4 (four) volcanoes in SIAGA / Level III status namely mount Agung, mount Sinabung, mount Karangetang and mount Soputan. 16 volcanoes CAUTION status / Level II and 49 volcano status NORMAL / Level I. (sk)

Head of Communication Bureau, Public Information Services, and Cooperation
Agung Pribadi (08112213555)