EMR Communications Team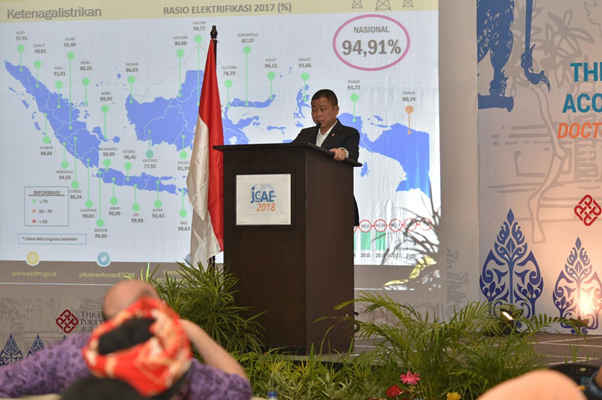 DENPASAR - Minister of Energy and Mineral Resources (EMR) Ignasius Jonan gave three important notes to participants of The Journal of Contemporary Accounting and Economics (JCAE) 2018. Three things are related to the profession of an accountant, which helps the Government task, price efficiency, and equity with affordability.
"There are three important things I emphasize about your profession, that is to alleviate the Government's tasks, price efficiency and equity with affordability," said Jonan in his speech at JCAE 2018, Thursday (11/1).
Three things are also implemented by Jonan for almost two years to organize the ESDM sector. Jonan continues to create a clean Government by applying technological policy innovations. "It's a big mission, I hope you support the technology implementation initiative," he hoped.
Regarding efficiency, Jonan explains it is the key to the global economy. "The global economy is not just about market expansion, nor about the creation of new technology, but about efficiency," said Jonan.
One of the application of price efficiency in the energy sector is the work of the Jangkrik Field project. Jonan exemplified the project completion process 6 months faster than the target and cut 10% of the total investment of 4.3 billion US dollars.
Meanwhile, equity is evidenced by the increasing electrification ratio in 2017 which reached 94.91%. "It is my responsibility to minimize the national Gini Ratio through the acceleration of electrification, increase the electrification ratio and promote affordability price," he said.
JCAE is an annual symposium organized by Airlangga University in cooperation with The Hongkong Polytechnic University, Deakin University and University Technology Sydney, attended by economic scientists in accounting.
Implementation of JCAE in Bali Province shows that the condition of Bali is safe. On the occasion, Jonan said the condition of Agung Mountain is currently the reason for his presence at the event. "One of the reasons I am here is because I am responsible for all volcanic activity in Indonesia, the condition of Agung Mountain improves, you do not have to worry," said Jonan.
This was disclosed Jonan after Wednesday (10/1) last night plunge directly to discuss with volcano observers and volcanologists at the Observation Post of Agung Mountain (volcano) in Rendang Village, Karangasem regency. "I think this place is still far away, about 45 kilo meters (km) from the summit of Agung Mountain from hazard zone 6 km, if there is a big eruption, we are still safe, "said Jonan. "said Jonan. (NA)